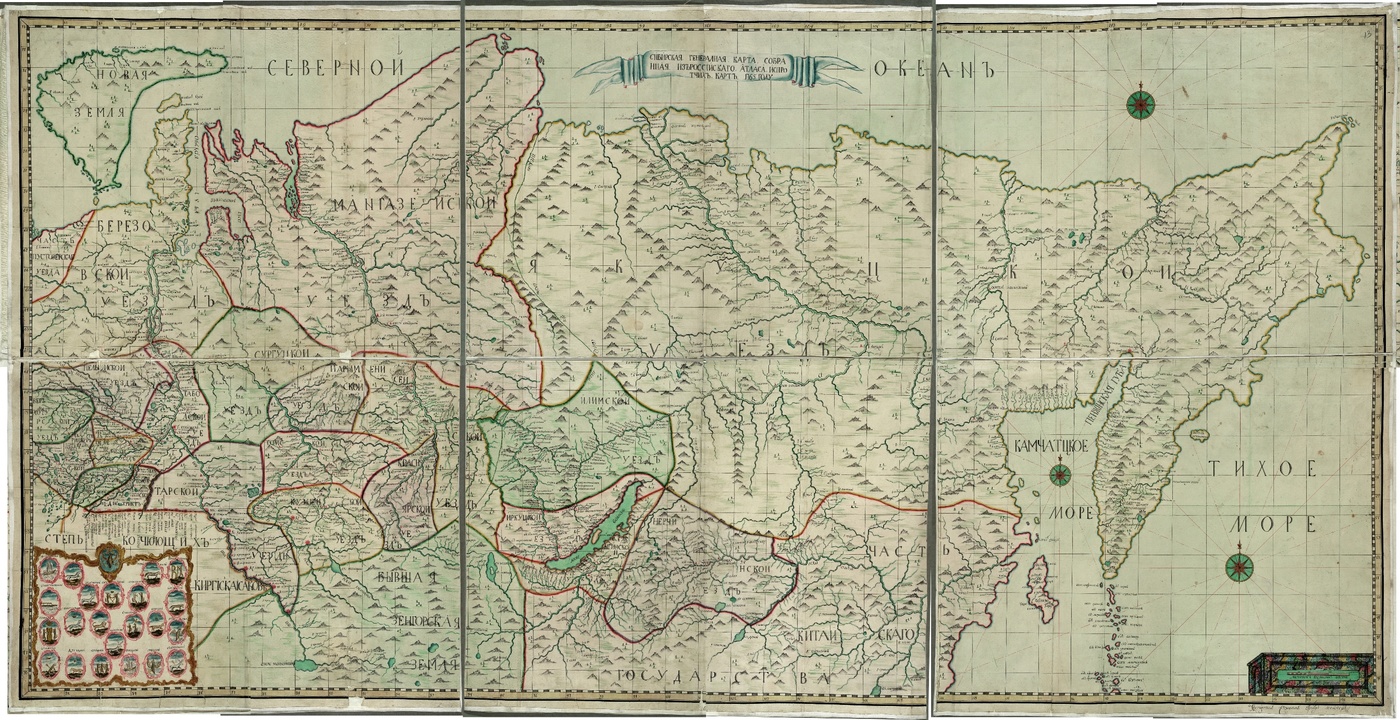 Click on the image to enlarge (31,8 mb).
RGADA (Rosiiskii Gosudarstvennyi Arkhiv Drevnikh Aktov – Russian State Archive of Old Acts, Moscow), Hold. 192, Reg. 1, file H-13 'GENERAL MAP OF SIBERIA, COLLECTED FROM ATLAS RUSSICUS AND OTHER MAPS, MADE IN 1765. Copied by sergeant Peter Moiseev'.
Description:
Approximate size 180*100 sm. Seen in archive by 15 people from 1960s; copied in 2012. Borders of the mapped territory: from Ural mountains to the 'Pacific Sea' and from 'Northern Ocean' to the northern part of current China; map includes part of Kuril islands and the whole archipelago of Novaya Zemlya. Content of the map: administrative subdivisions (uezds – by coloured fields and boundaries), cities, rivers, lakes, mountains and hills, forests; Russian coat of arms and heraldic emblems of Siberian cities and fortresses are situated in the bottom left. Latitudes from Ferro meridian; all the map stretches from 81° to 121°. Scale is '100 versts in 1 inch'. Nine administrative subdivisions are in Old Siberia: Pelym, Verchoturye, Yekaterinburg, Turinsk, Tyumen and Tobolsk uezds, province of Iset, district of Yalutorovsk. Redoubts and fortresses of 'New Ishim border line'. Fortresses of 'Irtysh border line'. 'Steppe of nomadic Kirgiskaisaks'. Thirteen uezds are in the rest of Siberia. Cities, slobodas and villages at well known (for descriptor) parts are situated pretty rough: regular mix ups of the river banks, some important settlements are absent, some small random points may appear on the map.
This electronic copy was made by Andrei Tyulpin in 2015.
Copy was ordered and now is published by Sergei Rasskasov, financed by Russian Foundation for Basic Research.
First publication of the part of this map: Omskoye priirtyshye i gorod Omsk na kartah, planah i chertezhah 17 – nachala 20 veka (Omsk Irtysh river region on maps, plans and chertyozhes in 17th – early 20th century). 'Revival of Tobolsk' Foundation, 2015. pp.220-223.
Источник изображения: РГАДА, Ф. 192, оп. 1, Н-13 "СИБИРСКАЯ ГЕНЕРАЛНАЯ КАРТА СОБРАННАЯ ИЗЪРОССIЙСКАГО АТЛАСА ИСПРОТЧИХ КАРТЪ 1765 ГОДУ. Копировалъ сержантъ Петръ Моисеевъ."
Описание:
[Российский Государственный Архив Древних Актов, Фонд 192, опись 1, раздел II.Карты, подраздел H.Российского государства генеральные, дело №13, 1 лист] Формат – 6 частей (свёрнута), каждая чуть больше А2 (+7-8 см. сверху и 2 см. справа). Лист использования – 15 человек; 18.09.2012 – копирование. Границы – от Урала (не показан, нет западных участков Берёзовского, Верхотурского и Екатеринбургского уездов) до Тихого моря, от Северного океана и северной оконечности Таймыра до оз. Норзайсан, "бывшей Зенгорской земли" и "части Китайского государства", вошла часть Курил и вся Новая Земля. Содержание: уезды (цветные поля и цветные границы), города, реки, озёра, горы, растительность (значками); в левом нижнем углу – герб России, печати сибирских городов и эмблемы (довольно оригинальные) крепостей. Особенности: долготы от Ферро, вся карта от 81 до 121 градуса долготы, Тобольск на 85,25, мыс Дежнева (Чюкоцкой нос) на 120,25; масштаб в 1 дюйме 100 вёрст. В Старой Сибири 9 адм. единиц: "Пелымской, Веръхотурской, Екатеринбуръской, Туринъской, Тюменской, Таболской, Тарской" уезды, Исетская провинция, Ялуторовской дистрикт; показаны крепости и редуты Новоишимской линии от Звериноголовской, крепости Иртышской линии, "Степь кочюющихъ Киргiскаiсаковъ". В остальной Сибири – 13 уездов. Города, слободы и деревни по известным участкам (Тура) расставлены довольно приблизительно – может меняться берег реки, могут выпадать важные сёла, появляться менее важные или странные.
Электронная копия из фондов РГАДА: А.Тюльпин, 2015.
Заказчик: Рассказов С.В., финансирование: РФФИ.
Первая частичная публикация в: Омское прииртышье и город Омск на картах, планах и чертежах 17 – начала 20 века. – Тобольск: ОБФ "Возрождение Тобольска", 2015: сс.220-223.